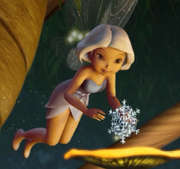 Frost talents are incharge of creating winter on the main land. They make the snow flakes and frost that overs the ground and water. 
They tend to wear various shades of blue.
When a new fairy is born they put a snow flake on the mushroom.
Known Frost Talents
Edit
Lord Milori
Periwinkle 
Dewey
Gliss
Spike
Sled
Slush
Ad blocker interference detected!
Wikia is a free-to-use site that makes money from advertising. We have a modified experience for viewers using ad blockers

Wikia is not accessible if you've made further modifications. Remove the custom ad blocker rule(s) and the page will load as expected.